HANDMADE RUG-MAKING TECHNIQUES
Hilton's rugs are constructed to an impeccable quality by talented master weavers, in northern India where weaving is a man's trade. The different techniques Hilton applies to her designs are described below:
Kilim or Flatweave
The word kilim is Turkish of origin and is a weaving method that some say is as old as history. In weaving kilim or flatweave, there is a warp that is fixed to the loom while the weft is interwoven with the warp yarns. Kilim or flat weaves can be woven up to 16′ in width and the length depends on project requirements.
Hand tuft
The technique involved for handtufting compares to an ancient technique called smyrna. Handtufted area rugs are made with the help of a hand-operated tool that punches strands of wool into a canvas that is stretched onto a frame. This method creates a compact pile which can be tufted in different heights, depending on the requirements to the rug. For the most part, the pile measures approximately 5/8″ and is sensationally soft to the touch. When the handtufting of the rug is completed, the rug is removed from the frame and a latex backing is applied along with a webbing border that is sewn onto and around the edges of the rug, resulting in a durable and visually handsome finishing of the rug. Handtufted rugs can be created in whatever shape or size a project calls for.
If a project calls for a handtufted rug being larger in size, the artisans June Hilton collaborates with are equally capable of creating their beautiful craftsmanship in astonishing sizes, such as: 60′ x 70′ // 60′ x 80′ // 70' x 70′. See for example church alter carpet.
Hand knot
The making of handknotted rugs requires a great amount of skill and is extremely time consuming to create. The cost of a hand-knotted rug is determined by the number of knots per square inch. In this case, a higher density means a thicker quality and therefore the price is in relation to this. An average weaver can tie about 10,000 knots per day, which explains why this process is a more costly process than the handtufting process. When the design of the handknotted rug is finished, it is cut free of the upright standing loom and the finishing of the edges is carefully performed, which is most important for the long life of this uniquely created product.
Hand loom
Historically speaking, rugs were hand woven on looms, so the term 'handloom' or 'broadloom' refers to a loom size which is wider than the average loom. Handloom can be woven wider than 16′ and can be as long in length as project requirements call for.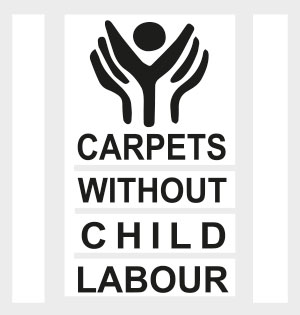 SEE WORKS
The rug design named MAGIC is first hand loom woven, thereafter the pattern is cleverly carved out of the pile creating a sensational rug in play with light.